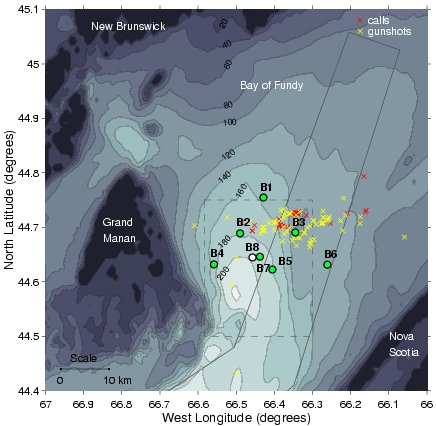 Get the photos and subscribe at http://fundywhale.blogspot.com.
North Atlantic right whales get added protections
The Canadian Press
HALIFAX -- The federal government is enhancing protections for endangered North Atlantic right whales by adding two important feeding grounds to the Species at Risk Act.
The Roseway Basin off Nova Scotia and the Grand Manan Basin in the Bay of Fundy have been added as critical habitats in the act.
The measure means Ottawa is obligated to legally protect the areas from activities that might harm it.
The feeding grounds are important for the massive mammals as they migrate from breeding grounds in the southern United States to Canadian waters, where they feed in the summer.
There are only about 400 of the animals left in the world, with ship strikes and entanglements in fishing gear being their biggest threats.
David Millar of the federal Fisheries Department says Ottawa has 180 days to put the legal protections in place.
Photo Credit: Department of Oceanography, Dalhousie University, Defence Research Establishment Atlanti. Shows sonobuoys (green and white) and right whale records(yellow and red). Lines are traffic lane. http://www.phys.ocean.dal.ca/people/po/whales.html. Roseway Basin map = DFO.